An anonymous donor gave $600,000 to San Antonio Animal Care Services. The money will be used as a grant to fund spay/neuter sevices in order to reach San Antonio's goal of zero euthanizations of healthy, adoptable animals by 2012.
(
Entire article from the San Antonio Express-News
Collapse
)
Hmmmmmmmmmmmmmmmmmm . . .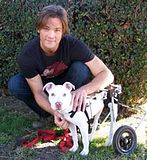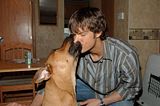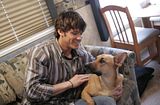 YouTube video by shadowfax220. Fangoria January 18-20, 2008 in Austin, Texas. Talking about Sadie being a shepard/'dingo' mix and Harley. "Go rescue shelters!"
YouTube video by caithream. Salute to Supernatural, Chicago, November 2007. Sadie and Harley and the vet's cat.
YouTube video by tinkabell007. EyeCon April 4-6, 2008 in Orlando, Florida. Jared gets portraits of his dogs by MysticKitty512 and SnObLuv.
YouTube video by hmfergie. CW Launch Party, Jared describing Sadie, playing with Harley and Sadie.
YouTube video by lillyshow4u, WB Inside & Out. at 4:30 Jared talkes about Sadie and Harley.
Okay, so I'm just sayin', the guy likes animals, and he's from San Antonio, and he once worked on a ranch owned by Peter Holt . . .
Current Mood:
quixotic